Riding the wave of digitalization in the construction industry
why we invested in specter automation
We still remember it as if it were yesterday: Dennis opened MS Teams for his bi-weekly sparring session with Emanuel, co-founder of specter automation. There he was, 2 mins late, with his bright yellow safety vest on, standing on a construction site in the South of Germany. Why do we tell you this anecdote? Because it's a great example of how close the specter automation founding team is to their customers. The founders don't shy away from getting their hands dirty, quite literally. specter recognized the mismatch between complex digital 3D planning models and the widely analogous execution on construction sites. The result: Delays and exploding costs. specter's approach: Build a product that makes 3D planning data accessible on site.
So, what drives us to make an investment?
We focus on gritty founder teams with deep domain expertise and a distinctive understanding of the problem they are trying to solve. Moreover, we are looking for differentiated products or services that solve a real pain point for customers. This is why we initially accelerated specter automation as part of our Explorers Batch in 2021. Want to know why we then took a leap of faith and invested in Oliver Eischet and his co-founders? Continue reading to find out!
1. What is specter automation & which problem are they solving?
specter automation, founded in 2021, offers a data platform joining planning and execution activities on construction sites. This not only enables a more transparent, but also more predictable and efficient construction process. The idea for specter resulted from the experience that during planning, detailed models (e.g., BIM models, schedules, cost and material data) with many data points are created. However, these are hardly ever used on the construction site, where pen, paper, as well as the experience and gut feeling of construction managers still dominate. The result: little overview of the current construction status, required orders, necessary adjustments and, as a result, construction delays and budget overruns.
specter bridges the gap between construction planning and operative execution on the construction site in four steps:
1. Aggregating of pre-construction data
2. Transfer of planning and calculation data to the construction site, including partially automated weekly planning.
3. Tracking of construction progress via entry by foreman, incl. dashboard transfer and automated planning adjustment.
4. Use of target and actual data for better planning and process optimization of future projects as self-learning algorithm (process mining).
specter's vision is to become the one-stop-shop for holistic data collection in construction projects. Processes can be sustainably improved based on data to ensure long-term societal relevancy, of the world's second biggest industry.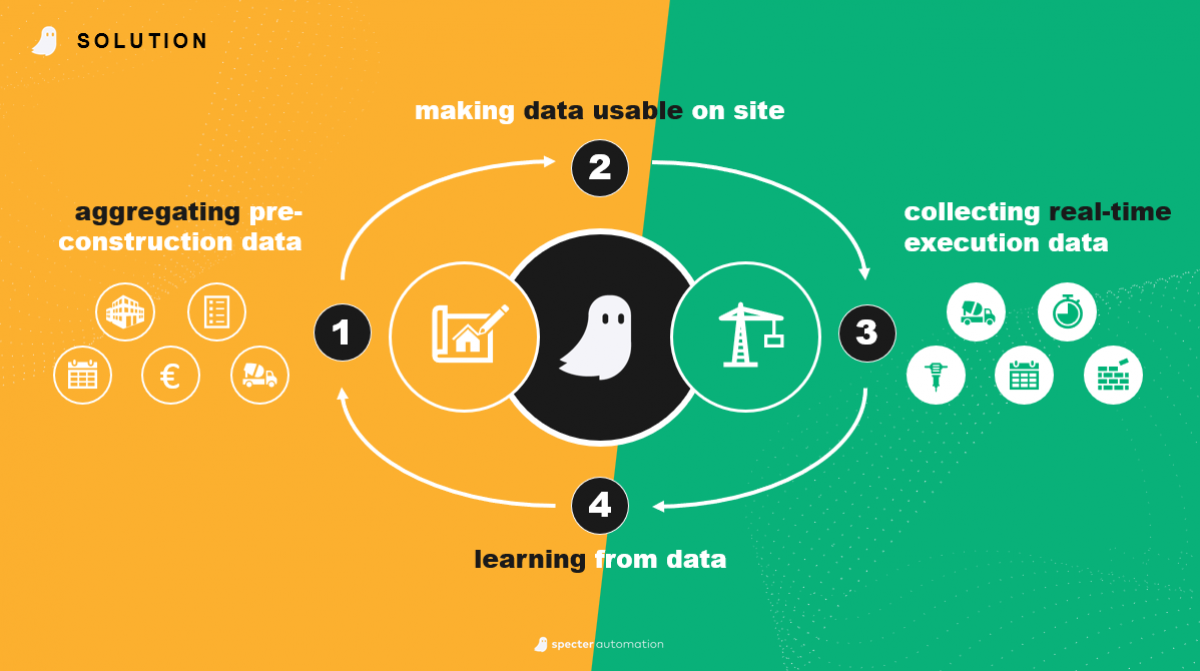 2. Why we invested in specter automation
specter automation impressed us with their highly qualified and complementary founder team as well as the high demand for digitalization in the construction industry. On top of that, their product has a clear differentiation as validated by their pilot customers, with strong upselling opportunities, e.g., in the field of process mining.
Team
Oliver Eischet and his co-founders Emanuel Groh, Niklas Beese, Max Gier, and Moritz Cremer tick many boxes: Domain expertise, execution-minded, passionate, determined and mission driven. Storytelling skills, yet metric focused. Together, they form a well-qualified, complementary founding team with the necessary drive and relevant industry contacts. Based on own family ties in the construction industry, we see a particularly strong founder-market fit.
Technological depth and defensibility
What we immediately found remarkable about the founders are two things: First, they are very product-focused and strive to build deep integrations with their customers as opposed to building a niche product with limited value-add. Second, they have a very detailed view on the ConTech industry as well as a sharp positioning with regard to competition. While deeper product-integrations are likely to lead to longer sales cycles, it also represents a stronger lock-in factor. We consider this essential in the ConTech industry where a myriad of startups is competing for the same customers with, on the surface, very similar value propositions.
Market size & future of the construction industry
As the second worst digitized industry in the world (behind fishing and hunting), with time delays (60% of all construction projects are over schedule) and budget overruns (80% of all construction projects are over budget), the construction industry is ripe for digital innovation. The combination of time and cost pressure on the construction sites, delivery bottlenecks, inflationary material prices, as well as new legal requirements for measuring sustainability provide a great momentum for change in the industry. The need for reliable and validated construction site process management is greater than ever. In addition, thanks to advancements in the field of cloud computing, three-dimensional building models (BIM) from the planning phase can be transferred to the construction sites. It is our hypothesis that the need for value-adding digitalization to become more cost-efficient will stay resilient despite a cool-down in the construction industry that is expected in 2023.
xdeck and specter automation
Our ambition is to take the operational support to the next level and to be the best sparring partner to our founders. What does Oliver Eischet say about xdeck?
"For me personally, xdeck.ventures is no ordinary VC – rather, we have won a sparring partner that supports us with its experience and resources to the extent that is best for us. Especially as a first-time founder, it is challenging to build a startup from scratch because you have to grow quickly in parallel to the company. Because xdeck has been with us since a very early stage and we even share the office together, we can share our journey - our successes and failures - very transparently. Whenever we want an external opinion on topics and don't know exactly what the right course of action is, xdeck is just an over-the-table call away for us and can provide fast and, most importantly, targeted support with its experience and resources."
Our support mainly focused on the revision of specter's pricing model, the acquisition of new clients in the construction industry, as well as the preparation of financial model, pitch deck, and fundraising strategy for the seed round. We are proud to continue backing the founders with their innovative solution to digitalize the construction industry.